FOLLOW OUR TUTORIALS WITH SIMPLE INSTRUCTIONS TO TAKE THE DIFFERENT MEASUREMENTS WITH THE TAPE
IT WILL BE ONLY NECESSARY THE FIRST TIME
USE THE TAPE TO TAKE MEASUREMENTS
[divider_1]
[one_half]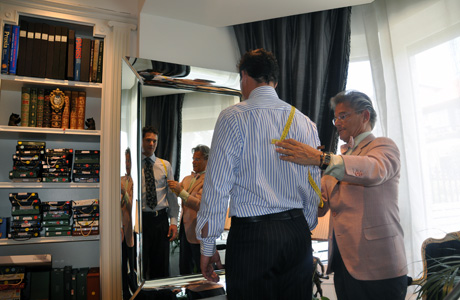 [/one_half]
[one_half_last]
[slogan button_text="" link="" background="accent1″ ]
[/slogan]
Follow our tutorials with simple instructions to take the different measurements. The process will end with some questions to optimize your garment:
You will need a measuring tape and a person to help you with the measurements.
You can save your measurements (when you want) by clicking on the button "Save my Measures".
Once all measurements are saved, we will finish the process with some questions regarding configuration to be able to optimize your garment.
Contact us via Chat for further assistance.
[/one_half_last]
[slogan button_text="START MEASURING" link="https://www.exquisuits.co.uk/my-account/edit-measurements-and-customer-profile/#formedidas" background="accent2″ ]
Estimated time to complete – 15 minutes
I want to start the measurements process with the tape
[/slogan]